Last update: 14 September 2021
​To improve services for international employees, the IND, jointly with the municipality of Maastricht, the Expat Centre Maastricht Region, and 16 other municipalities in South Limburg combined three desks into a 'One-Stop-Shop'. The latter is a continuation of a pilot that started in 2020 to explore the need for this bundled service. The desk scored an average customer satisfaction of over 9.
For the IND, this is the reason to continue the cooperation. It is intended to investigate the possibility of providing such a service at more locations in the Netherlands.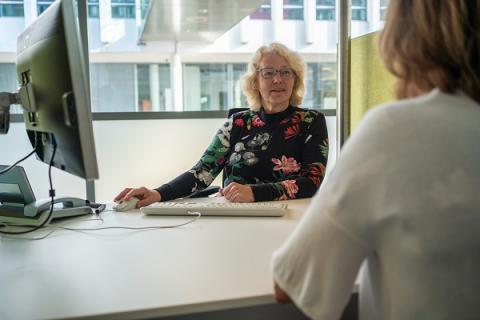 Professional services
People who want to live, work, or study in the Netherlands face various government organisations. Especially for people who are new in the Netherlands, making appointments at different desks can be difficult and time-consuming. The combination of the desks of various organisations allows customers to arrange necessary matters at one time and in one place. Newcomers can get help from the desk for:
Registration in the BRP (Key Register of Persons)
Work and residence permits
Advice on working and living in the Netherlands
Biometrics (fingerprints and pictures)
Re-entry visa
High customer appreciation
Its ratings demonstrate the need for this new form of service. Information and service were rated 4.9 on average on a scale of 1 to 5. Since the beginning of the pilot, over 13,000 customers have been served. Customers indicated that they saw no room for improvement.
"Compared to other countries where I have worked, the service here was speedy and customer-friendly", said Madhu Tanku, a knowledge worker from India.
The Netherlands, a land of knowledge
Besides improving its services, the IND wants to make a noticeable contribution to the economic development of the Netherlands. Roelof Triemstra, Services Department Director at IND: "Like the Netherlands, we want to be attractive to international knowledge workers and highly educated people. Therefore, at the time, the IND started the pilot project together with the various partners in South Limburg. By professionalising the services to our international clients, we want to contribute to strengthening the position of the Netherlands as a country for the migration of knowledge workers. As far as we are concerned, the pilot was successful in both respects".
Continuation 
The positive results call for continuation. Therefore, the IND will investigate the possibility of implementing this service provision in other Expat Centres in the Netherlands. "IND gained valuable knowledge and experience through this pilot. We will take advantage thereof for follow-ups with Expat Centres in other regions in the Netherlands", said Roelof Triemsta.
More information
For questions, contact the IND.
Learn more about the Expat Centre Regio Maastricht