Last update: 31 August 2020
​The Dutch admission policy for foreign students has been successful. Due to a great number of English-language courses and the short procedure for residence permits, a lot of students choose to study in the Netherlands. But shortly before the start of the new academic year on September 1, due to corona the number of applications is much lower than in previous years. Therefore, IND employees involved are deployed for other activities.
The applications usually reach the IND just before or during the summer period. If a foreign student wants to study in the Netherlands, he / she should report to the educational institution. Most educational institutions are recognized sponsors for us. A (recognized) sponsor is a person, organization, company or institution with an interest in the migration of a foreign national. The educational institution determines whether the student is admissible and then submits an application for a residence permit to the IND. If the application has been approved, the student can collect his/her mvv (temporary residence permit) from the embassy.
About 60% of the normal number of applications
Jacqueline Neumann works for the Business Team of the IND and has frequent contact with educational institutions. 'This year, the applications are coming in later and there are far fewer of them,' she says. 'I think we have currently received about 50/70% of the normal number of applications. Educational institutions are also working hard to see how they can offer education, partly depending on what is possible within the current RIVM measures. This also affects the foreign students: can I get a visa, can I travel, as well as what education will be offered to me and is my embassy open to obtain an mvv? These uncertainties have resulted in fewer applications. However, the list of the top 5 countries where the students come from has not changed.'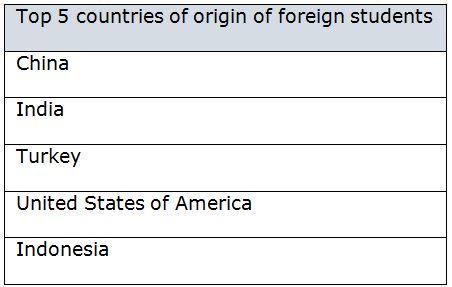 Nuffic
The IND has frequent contact with Nuffic, the organization for internationalization in education, about the arrival of foreign students. Nuffic is a partner of the IND. For example, we hold a digital consultation hour for educational institutions together. Neumann: 'Nuffic has offices abroad where our education is promoted. They also conduct research into the effects of corona in various countries and whether students still can and want to come as a result. They are working hard on that at the moment.'
Consequences
Neumann: "We don't know what the foreign students who aren't coming now, are going to do. Perhaps they will come to the Netherlands later this year or next year, or they may have started another study.'