Last update: 13 May 2020
​Schiphol airport normally has an average of 150,000 travellers per day. Right now, because of the corona crisis, there are only 5,000. On arriving at Schiphol you notice this immediately: the airport appears completely empty. However, it is busier than usual at the IND's Border Office because there are many more questions coming in for advice about air travellers.
The Border Office advises chain partners in the field of border security and supervision of foreign nationals. In addition, Border Office staff process administrative appeals for people who have been denied entry to the Schengen area. Normally they receive about 10 questions for advice a day from chain partners, but since the corona measures this number has increased considerably. Sometimes double the number of requests come in. Mark van Elzakker, Border Office manager, and colleague Herman van Temmen explain.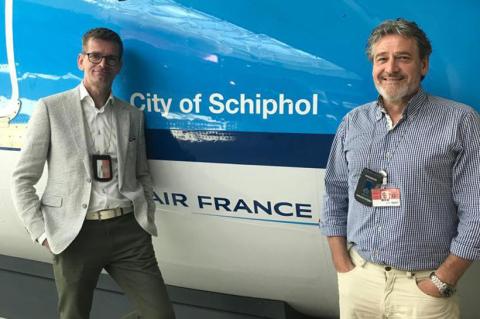 Advice on admission
 ´Within a few days we were confronted with the new European regulations in connection with the corona crisis,' explains Van Elzakker. 'Normally, the Royal Netherlands Marechaussee (KMar) checks whether someone can be admitted to the Netherlands. Our advice is only sought in exceptional circumstances. Now there is an entry ban and anyone who wants to enter the Netherlands and Europe from outside the EU has to be checked.
During the initial period, passengers sometimes arrived at Schiphol Airport, and were subsequently refused entry. But if they cannot travel back, they are stuck. A protocol has been developed for these people to allow then to be temporarily admitted, with the involvement of the Border Office and with the support of their own embassy. But as always, the following applies: prevention is better than cure. Therefore, advice is often provided before the plane leaves for the Netherlands or people can enter.´
Challenge
´It is a challenge, where the mutual cooperation with all chain partners, such as the Ministry of Foreign Affairs and the KMar, is particularly important', adds Van Temmen. ´The questions are now completely different. Usually you check whether or not someone can enter the Netherlands on the basis of the Schengen border code. Now the regulations are different; in principle, only EU citizens, including the UK and Switzerland, are allowed to enter Europe. The group for whom exceptions have been made is very small, for example special professions performing a vital function, or when there are compelling reasons for family visits. The decisions you have to make are not easy. It is often important for the traveller themselves to travel, but this is not always possible under the regulations.´
EU entry ban
The IND works closely with the KMar from the Border Office at Schiphol. The KMar Border Control Brigade has maintained the EU entry ban since 19 March. This certainly required a flexible approach from the entire chain when the entry ban was announced. ´We went from a few hundred thousand passengers a day to a few thousand,' explains Corné Ripson from the Schiphol Border Control Brigade. 'This has had a big impact on our work. The regulations mean that we have to organise our work in a different way. We are working together with the IND very well. We have incorporated the guidelines into our work processes. We briefly consult about practical problems with the IND and ask them for advice. It's going really well.´