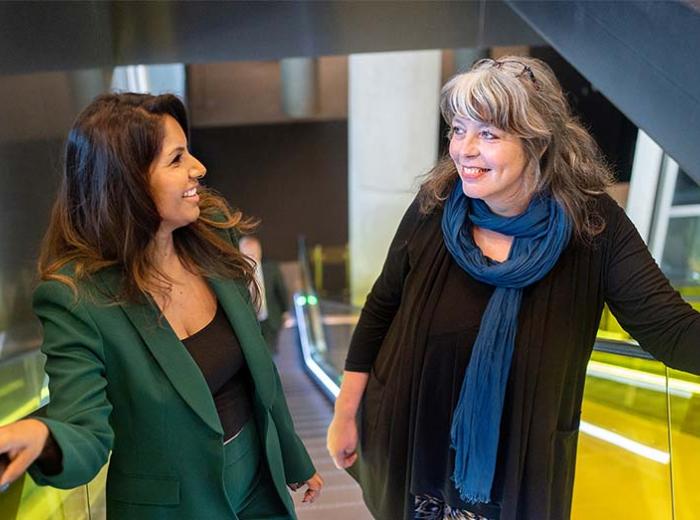 Come make a difference and apply!
What difference will you come and make? Look at our vacancies (only in Dutch) and find the job that suits you.
What you can expect
You will make a difference for us; we will make a difference for you. Our terms of employment are appealing. What can you expect from us?
   •    A good salary, also as a trainee or intern (internship pay). 
   •    A good balance between work and private life. If your job allows it, you can work at home and at the office (hybrid). 
   •    An individual choice budget (in Dutch: Individueel Keuzebudget or IKB). You will get this budget in addition to your salary and it consists of money
         (16.37% of your gross annual salary) and time (extra leave). This allows you to make choices that suit your own wishes, in line with your personal
         situation.
   •    Options for personal growth and career development via the IND Academy, our expertise centre for learning and development. 
         All our terms of employment are available on www.werkenvoornederland.nl. 
Found a vacancy. What next?
Have you found a vacancy that sparks your enthusiasm? Great! Then we would like to hear why you think you are the candidate we are looking for. In the vacancy text it always says whom you can direct your motivation letter and CV to. And until when you can apply. 
You usually get a response from us within two weeks. There are three possibilities.
•    We are curious and want to see together how your talents fit the vacancy: we invite you for an interview.
•    We think that other candidates are better suited for the job and do not invite you for an interview. 
•    We think you do not fit the vacancy, but do fit the IND. So, we would like to stay in touch with you for the future. 
At the interview
Have we become curious and do you fit the vacancy? Then we invite you for an interview. We send you an email containing information about the time and place. And of course the person with whom you will have the interview. 
Sometimes, recruitment consists of several rounds. We can also ask you to have an assessment or carry out a task. 
The feedback
Applying for a job is always exiting. Do we match? Or do we each go separate ways? We will let you know about our conclusion as quickly as possible. Of course, you must also feel there is a match. So you always have time to think about it. 
Congratulations!
We've matched! We found our candidate and you have found your new employer.